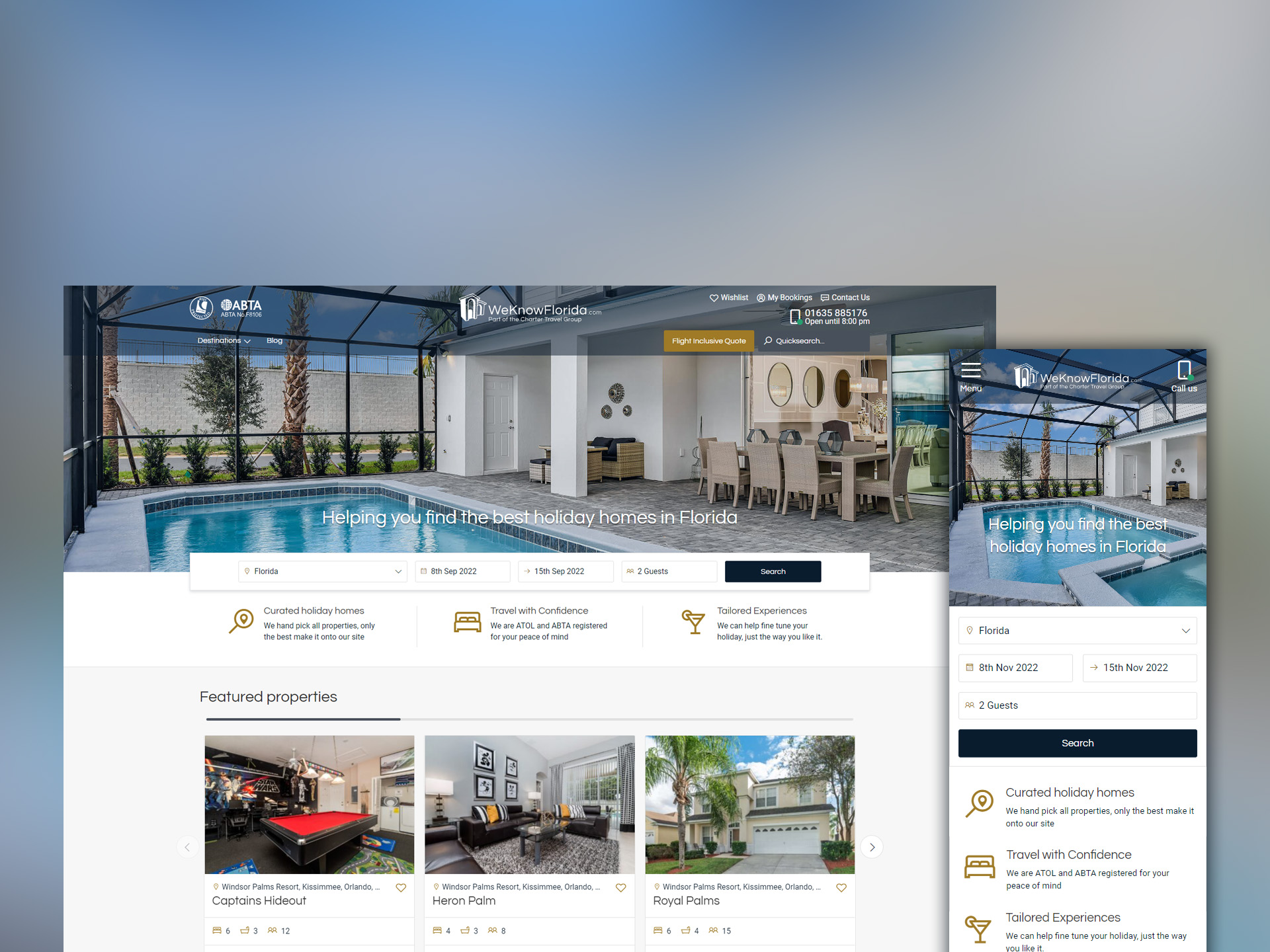 The Brief
We were approached with an idea; A new brand focussed on offering tailor-made U.S.A. holidays to hand selected Florida villas wrapped in a seamless booking experience.
This project had to feel luxurious, yet modern. Launching a new brand is never easy and, to compete with the bigger brands, they had to stand out from the crowd. They needed branding that grabs attention with outstanding design and a website that retains it with modern features and quality user experience. They were looking for a solution to not only manage but sell an entire catalogue of over 1000 bookable properties to their customers in a complete booking experience.
The Challenge
Content management systems are always tricky. Not because they provide you with a platform to manage any type of content you could think of. But because, to really manage content effectively, your content management system (CMS) must be built around the type of content you want to manage.
It's no good choosing a CMS built for managing clothing products when you're selling technology-based items. Or in our case, it's no good choosing a CMS built for managing blog posts (WordPress, in its most basic form) when our client is wanting to sell luxury villas.
Their properties had a whole host of content that needed managing. Collections of images for both inside and outside the property. Custom lists including an array of features and USPs. Details on how many bedrooms and how many people it could accommodate. Long format descriptions of the facilities, bedrooms, and even the kitchen.
The list goes on.
A list of content which needed a CMS built for managing this content. And manage it effectively.
On top of managing all this content, they wanted to make these properties bookable. They needed the ability to check property availability and pricing to give customers a truly complete property booking experience.
The Solution
For such a complete end-to-end system, they required a full stack solution.
A CMS built around the type of content they want to manage.
A travel booking platform capable of managing flights, accommodation, availability, and pricing.
And a WordPress site capable of connecting all this data to give the client a seamless booking experience.
Travelflow Contracts was designed with properties in mind. A facility to upload, store and manage collections of high-quality images? Check. The ability to create lists of facilities that can be assigned to each of your properties? Check. A place to load accommodation data such as bedrooms, bathrooms and how many people the property sleeps? Check, check and check.
Now, what good is all that travel content if you don't have the ability to sell it? By combining the content stored in Travelflow Contracts with the full booking capabilities of Travelflow Leisure, you end up with a fully-fledged travel booking system offering content you control. Perfect!
All that's left is to get your content in front of your customers. We designed and built a fully bespoke website completely integrated with the content from Travelflow Contracts allowing us to display all the information we could get our hands on.
The Result
We Know Florida were delighted when we gave them their new logo and website.
Customers could browse diverse catalogues of properties, refine their search with custom filters to find the property that best matched their criteria and then check when it was available – all with live data, thanks to Travelflow Contracts.
Each property came complete with beautiful in-depth pages filled with every detail about their next dream holiday home. Number of bedrooms, bathrooms, images of each room, and lists of all the features that really make the property unique.
Customers not ready to book just yet? No problem. We included a Wishlist system for just such an occasion. See it. Save it. Book it just in time for the summer.
All these amazing features presented on a slick, modern, luxury travel website under their new branding.
It's everything our client could've wanted. We're proud with how this project turned out.
Check out We Know Florida for yourself and let them know we sent you.
Take a look at them now