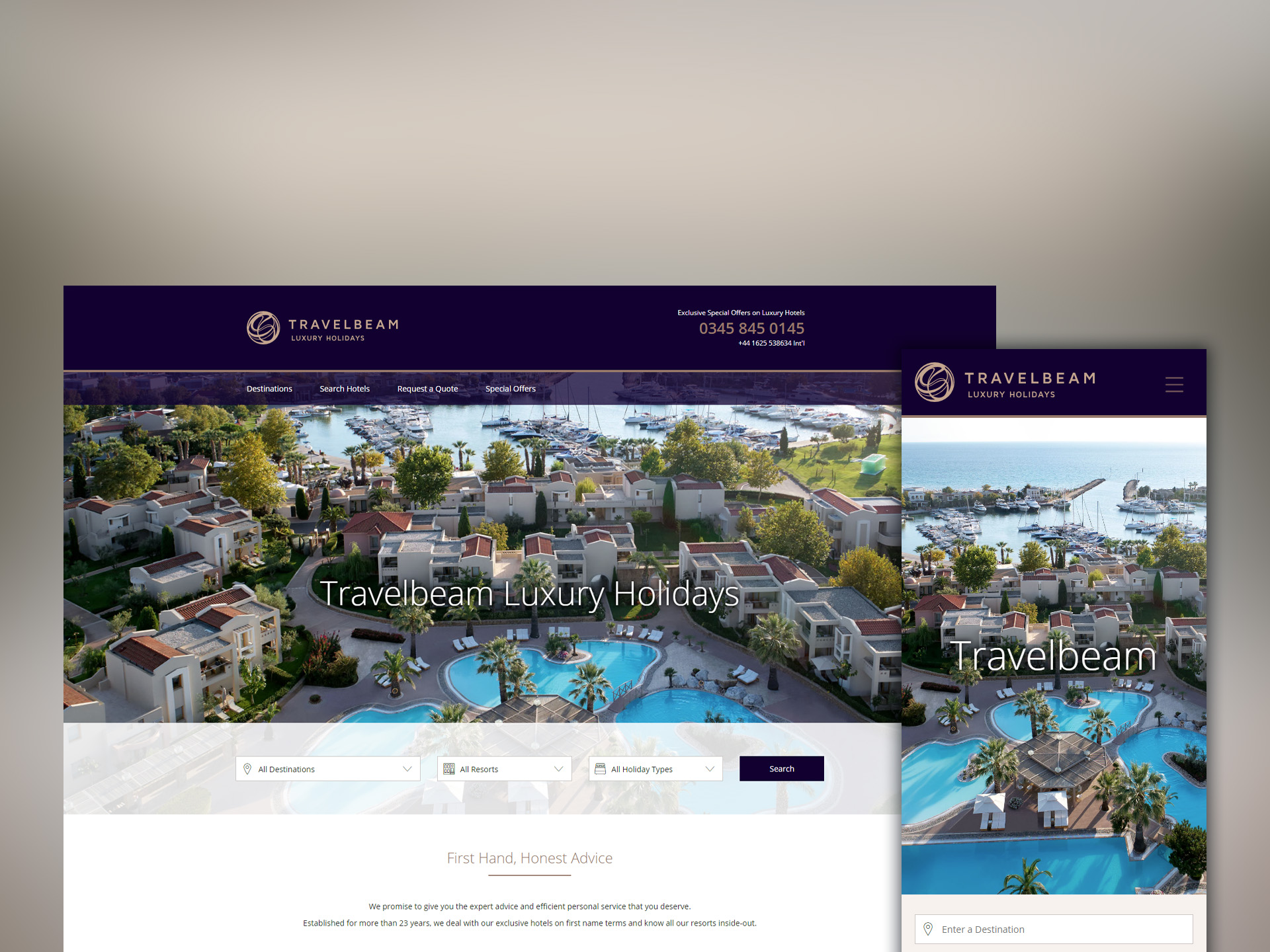 The Brief
Our first major project after launching "Design For Travel" came in the form of a UK-based, luxury hotel provider; Travelbeam.
Travelbeam specialise in luxury travel. Offering high-end hotels and resorts in a large selection of dream destinations. From Cyprus to Mauritius, Portugal to Greece, they had a luxury getaway for you.
They came to us seeking the next evolution in their online presence. To improve their current online storefront and further establish themselves in the luxury travel space as a leading provider of high-end travel.
This new website was to act as their online digital brochure for their vast collection luxury hotels. Showcasing the best hotels with all the added extras they had to offer. From spas, to beaches, to available rooms and restaurants.
All combined with the ability to book your travel integrated directly into the browsing experience. Explore the available destinations. Find your perfect resort. Book your dream holiday.
We knew this was going to be quite the project.
The Challenge
When Travelbeam approached us, they had already amassed an impressive collection of over 200 hotels they wanted to offer. Each one coming with their own dedicated listing of information.
Their hotel pages needed to be packed with useful information to help you choose your next holiday getaway. From available rooms and restaurants to on-site childcare and facilities. Along with associated reviews, special offers, maps, and featured images.
So much information required a dedicated solution designed to manage all this content in an effective way.
On top of this, like any online travel agent, Travelbeam wanted to make these hotels bookable. They required the ability to post their hotel information directly into our online booking engine, Travelflow, to enable customers to transition swiftly between website and booking engine to continue and complete their booking.
The Solution
When it comes to developing websites, WordPress is our go-to CMS of choice. It's a great option for web development as it's not only free, but it's extendable. And it's this extendibility we wanted to take advantage of.
We wanted to build a WordPress plugin designed specifically to manage the content Travelbeam wanted to offer. Taking advantage of the post type structure WordPress is built upon, we built our own custom post types tailored towards hotel content.
Featured images of the hotel and surrounding facilities, content cards detailing the available rooms and restaurants, as well as on-site childcare information, transfers, and hotel availability. All this content and more was available for Travelbeam to list on their hotel pages.
Not only that, but hotels were organisable too. Allowing visitors to explore dedicated categories made finding their perfect hotel a breeze. Explore by location, facilities, and more. There was a category to fit any customer requirements.
Now we just had to make them bookable. By developing our own plugin meant we could also develop a direct interface to our online booking tool. At the flick of a switch, Travelbeam could enable online booking for any of their hotels. This allowed users to submit their booking information, such as travel date, duration, and passengers, to then be submitted directly to Travelflow to complete their booking.
All that was left was to present all this information in a luxury package. Clean, crisp, page templates gave the same luxury feel as the hotels that were on offer.
The Result
Being our first large project to launch with Design For Travel, we couldn't have been happier with the results and the following success of Travelbeam and their website.
Travelbeam were able to create in-depth hotel pages listing all the information they desired in a luxury templated design. Clean, uncluttered, and digestible. The extensive amount of information on display required page layouts that were easy to understand.
Hotels could then be assigned to new or existing categories, with their own distinct, editable pages that users could either explore directly or using our integrated search system, use to narrow their search down in an instant to find that hotel that truly matched all their requirements.
With the added ability to handoff to Travelflow to complete your booking resulted in a complete end-to-end solution that made booking your next luxury break simpler than ever.
The luxury design of Travelbeam perfectly complimented the luxury resorts they had to offer. And combined with the simple, yet effective booking experience made this project a complete success that we're still proud of to this day.
Check out Travelbeam for yourself and let us know what you think.
Take a look at them now