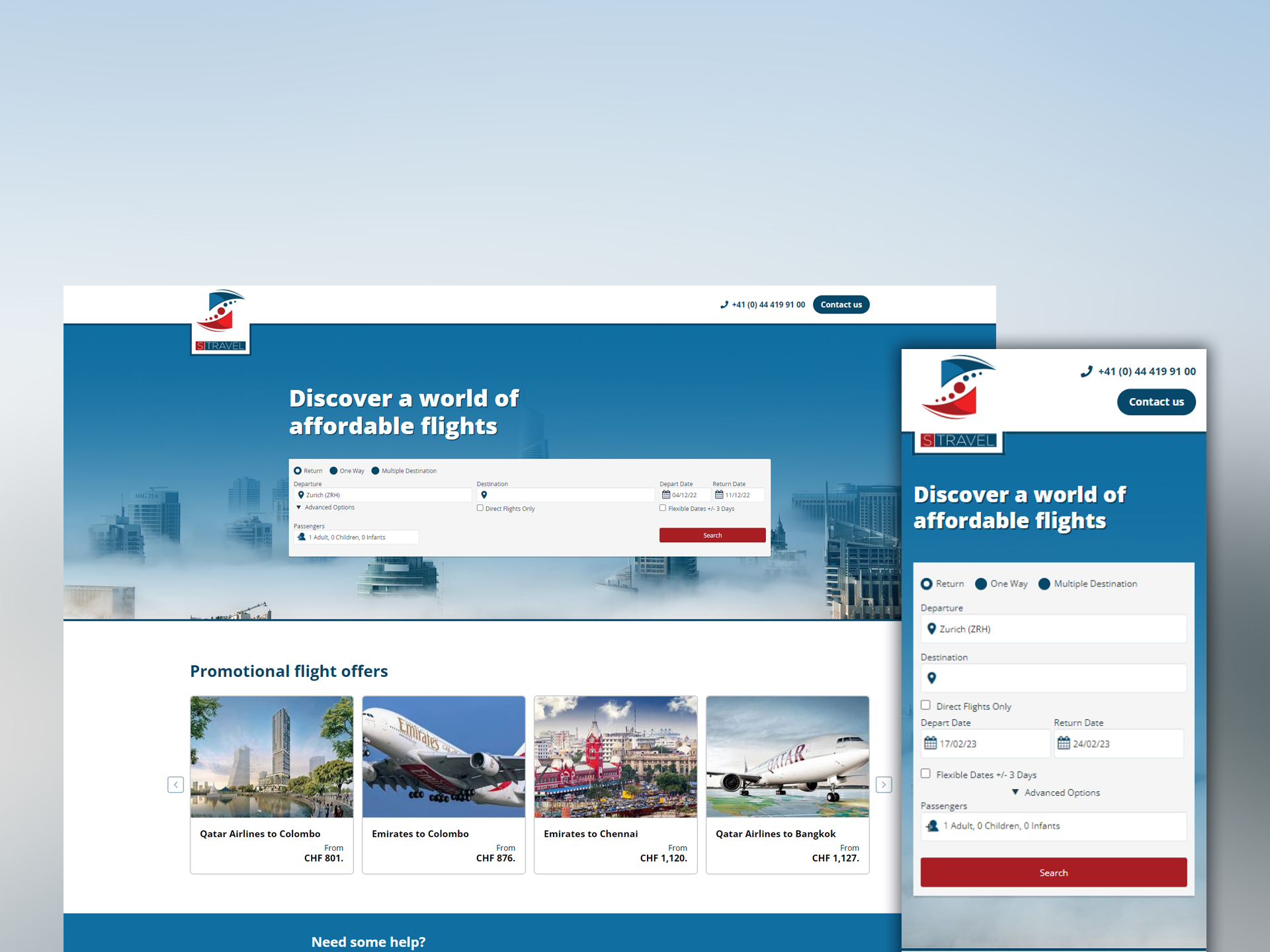 The Brief
Referred by an existing client of ours, Cheapairtickets, S Travel were a small, newly launching agency based in Switzerland looking to create their own flights-focussed travel agency, offering the best offers to a variety of high-end destinations.
Being a small agency, they were in the market for a low maintenance website capable of still generating sales online from their online traffic.
We were more than happy to assist, providing them with both a Travelflow booking engine and website would be more than enough to get them launched and selling online.
The Solution
S Travel already had an existing website yet wanted to replace this with something more functional.
This was the perfect opportunity to remove the clutter, and introduce some fresh, bespoke design to help bring about a new phase to their online storefront.
Their logo acted as the primary driver of design to this website. Striking reds and blues allowed us to build a modern-day colour scheme perfectly suited for the skies their flights would charter.
Sharp lines of their logo allowed us to translate this into a no-nonsense, clean and organised site to layout their content.
S Travel wanted to get clients in and booking straight away. Our Travelflow booking engine took the centre stage of the hero element, drawing attention to where clients could immediately book their next flight.
Special Offers followed in a compact, user-friendly carousel. Browse the selection and choose the offer that takes your interest.
Remaining elements such as call-to-actions, forms and footers tied the website together nicely, giving a project that had all the key elements S Travel required without the fuss of content that gets in the way of making a booking.
The Result
Despite feeling it 'lacked' in content, S Travel were pleased the site matched their brief perfectly. A website of so few pages meant for a more focussed booking-over-browsing experience.
A stripped down nav meant all attention was either on making a booking or getting in touch with one of the S Travel team.
However, should they require, the website allowed for scalability. Pages could be created in the future and added to an already available header element.
A strong design theme meant this could be applied to a variety of scenarios later down the line should S Travel require.
And a CMS like WordPress allowed for easy content management whenever they needed it.
Small but mighty, we're really happy with how such a small project turned out so well.
Check out S Travel for yourself and let us know what you think.
Take a look at them now