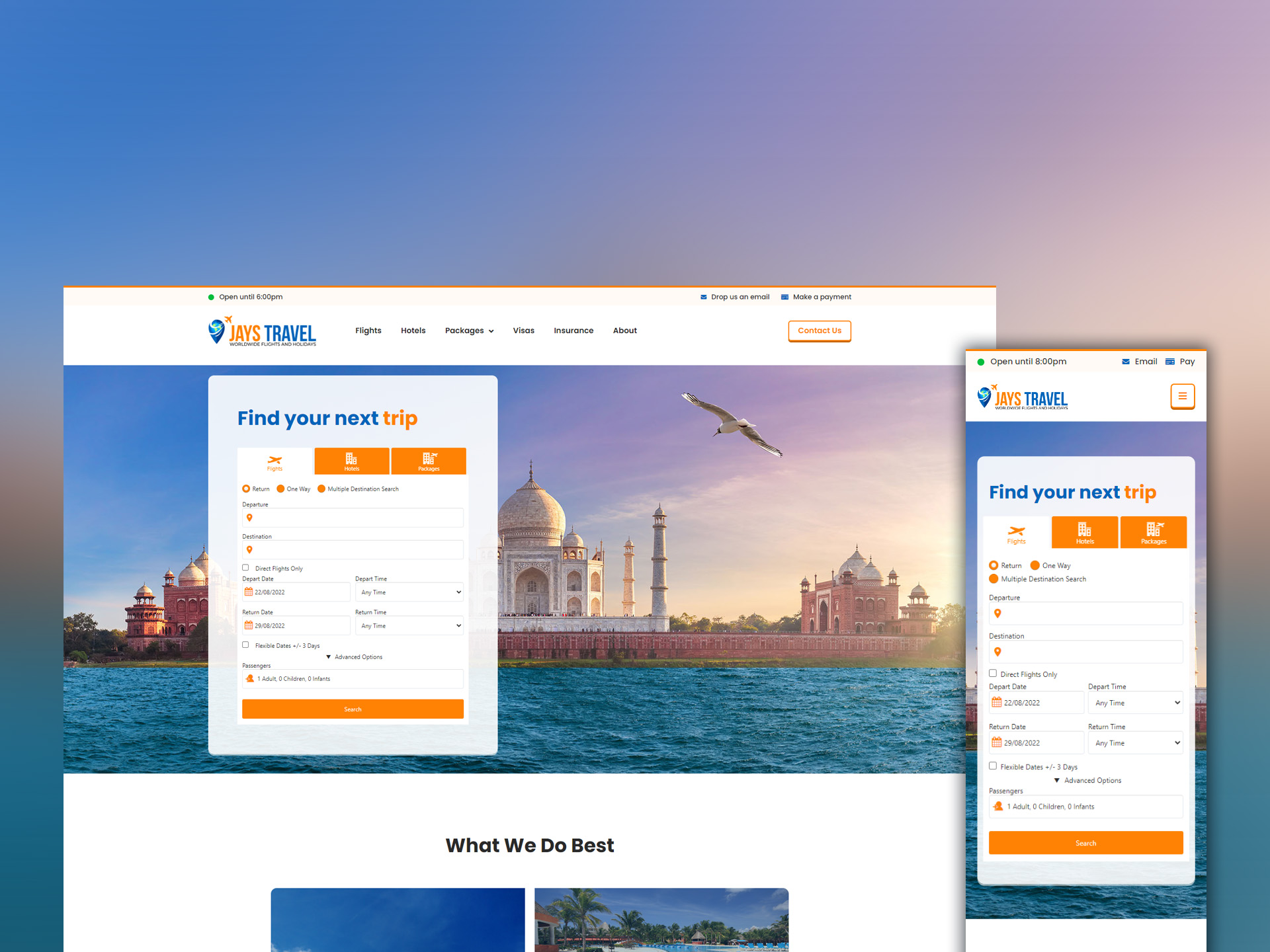 The Brief
Jays Travel are an exciting, established travel agent, based in the UK. They specialise in offering flights, holidays, and hotels and approached us for help to bring fresh life to their website. In addition to a fresh website, they also sought an innovative travel booking engine to expand into gaining online bookings to help improve sales.
Their existing website was filled with good ideas but lacked any creative execution. Content needed a defined structure to improve user experience and they also required a selection of additional features, like a dedicated payment gateway, to bring about real usability and function to their online storefront.
A solution was simple. Take those existing elements, ideas, and defined branding and put them into a structured website that makes sense, that stands out, and offers true bookable features and website exploration.
The Solution
For online travel agents who are already established but seek a new website to help improve sales, sometimes the simplest solution is almost always the best. Why introduce a completely new design system when we can just use the existing one, but better.
We took existing typefaces and built a more structured typography system.
We took existing colours and built upon them to create a more useful colour palette.
We took existing content and redesigned it to create more cohesive layouts.
And to tie it all together, we introduced Travelflow. Our online booking technology able to take bookings on your website quickly and simply.
By using existing design elements, a lot of the work has already been taken care of. That leaves us to spend more time on what's important: how these elements are used. We applied existing typography to a sizing system that brings reinforced hierarchy in copy. We applied our colour palette to graphical elements, like buttons and icons, to give them improved visual presence. And finally, took existing content and added it to a design that brought about a more meaningful content structure.
The Result
Jays Travel really appreciated the work gone into getting this new website live for them.
Customers can book their travel seamlessly thanks to a booking engine integrated directly into the website. Not only that, but Jays can now to take advantage of the Special Offers system Travelflow provides to upsell flights, holidays and more.
Pair that with the improved design and cohesion of a website built using a design system that has structure and strength truly makes the difference.
It resulted in a excellent up-to-date iteration of their existing online presence.
Our clients' expectations were met, and then some. We were more than thrilled to have this project out the door and live.
Check out Jays Travel for yourself and let them know we sent you.
Take a look at them now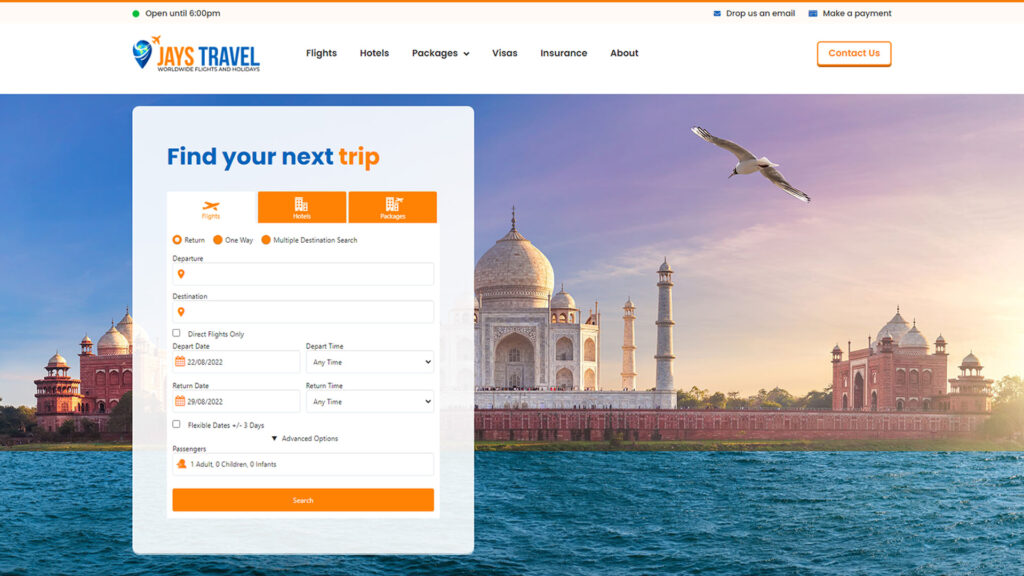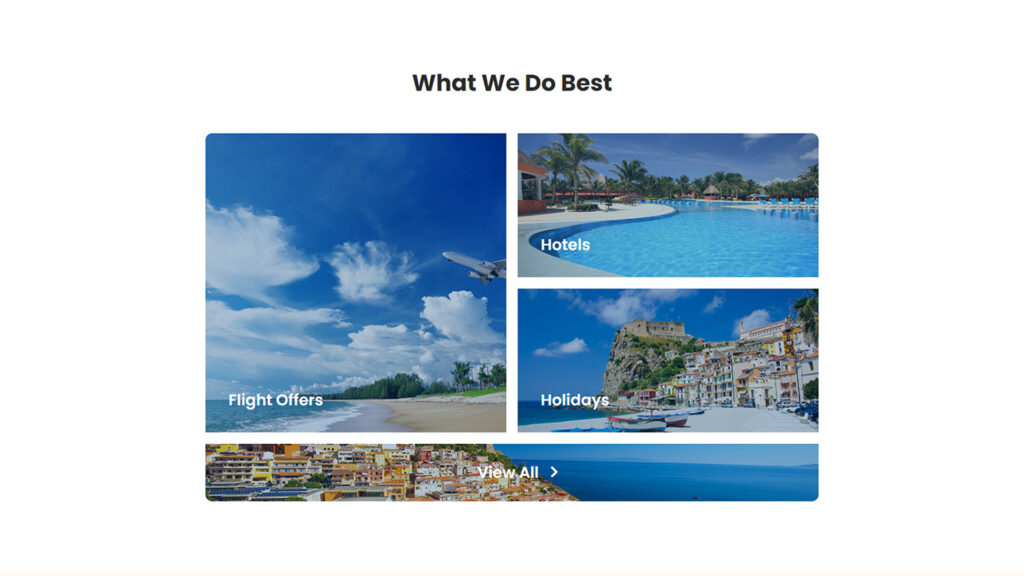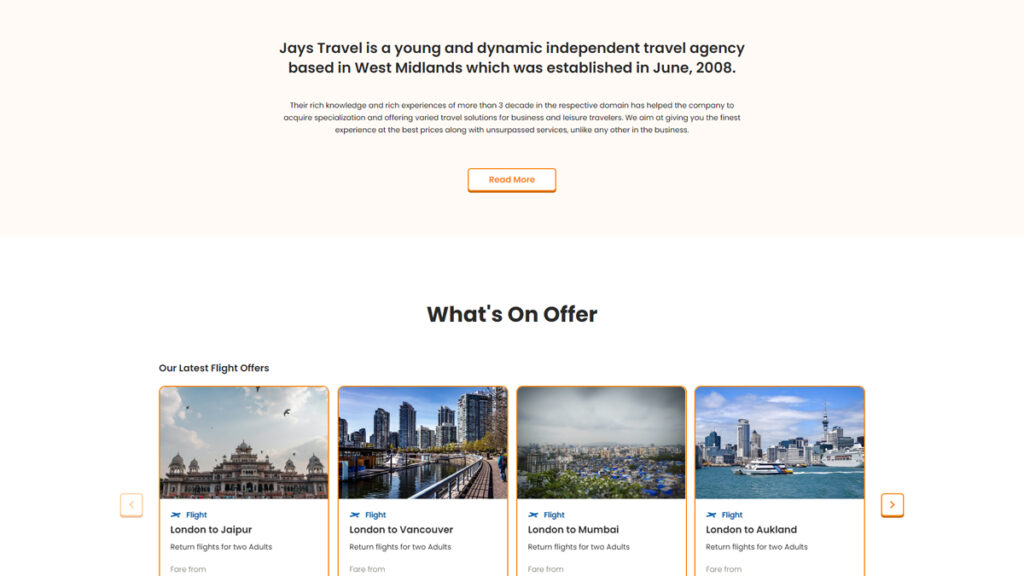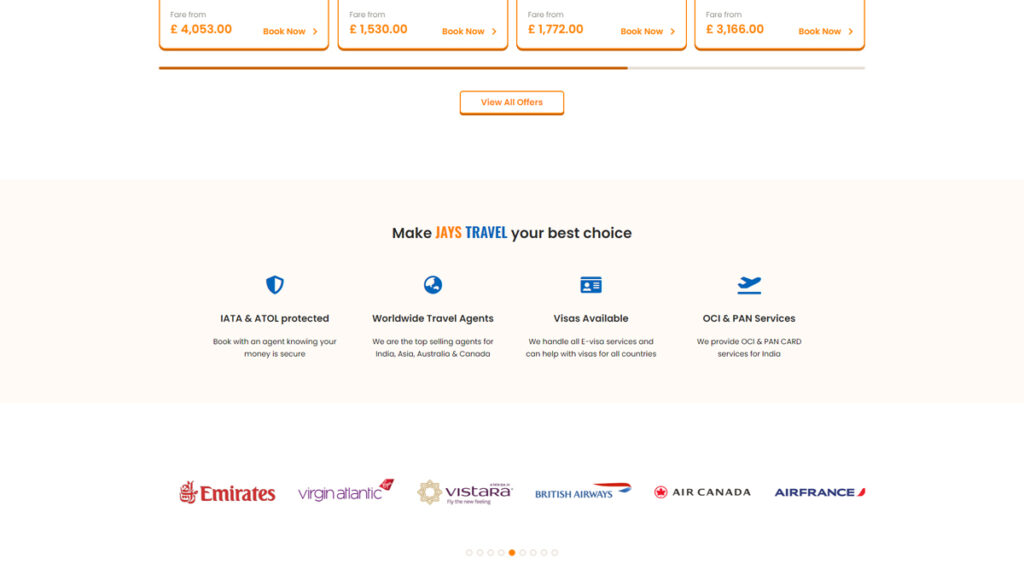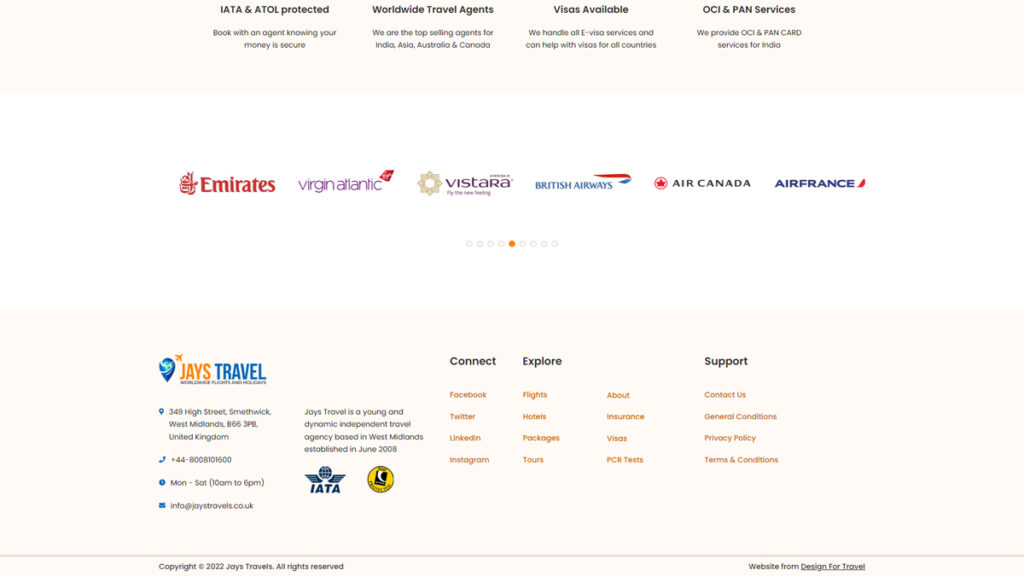 Brilliant work from the Billian team to get Jays online. Appreciate the efforts of whole team and Vicki.
Suhkwinder Singh
Managing Director, Jays Travel