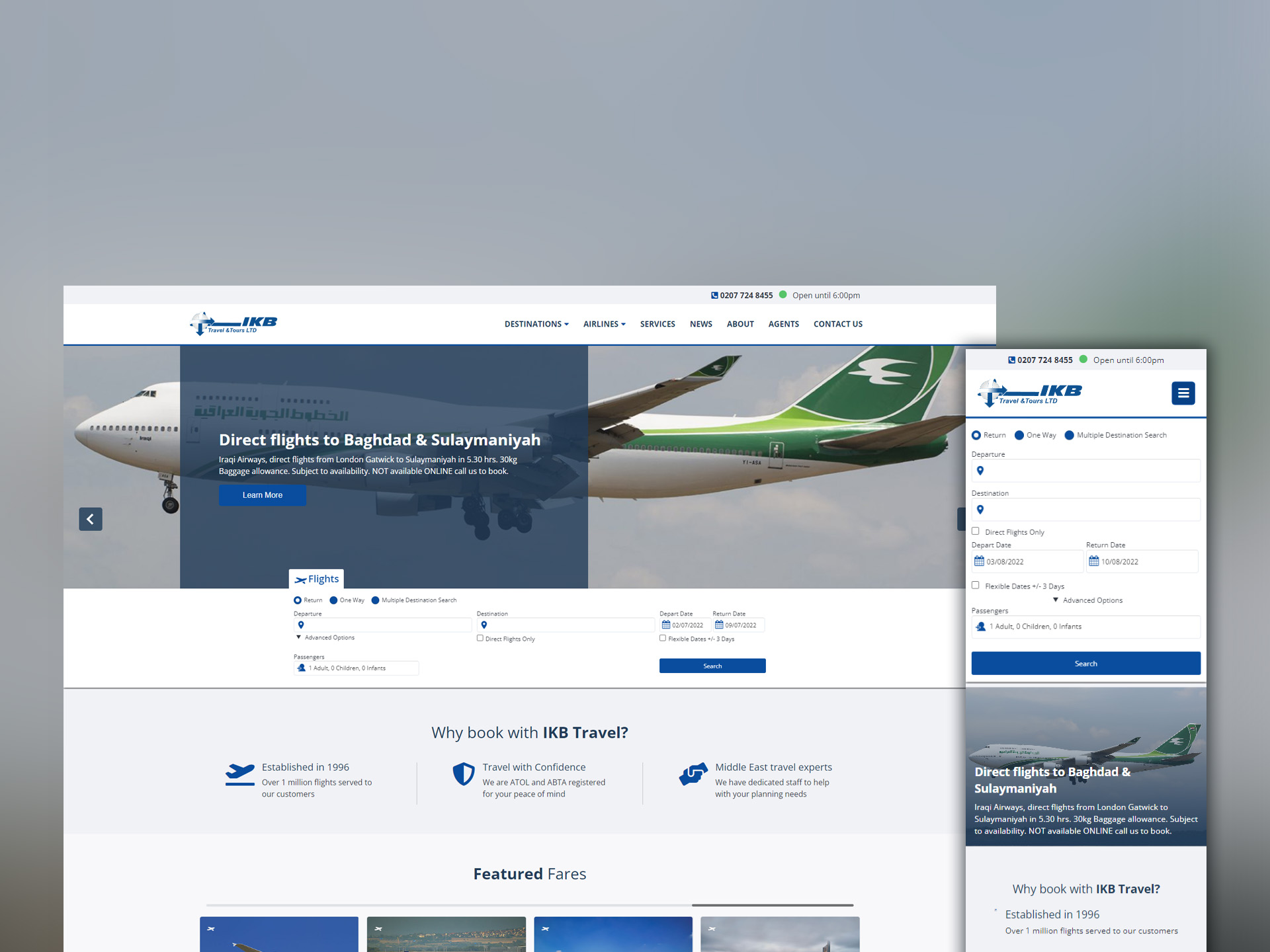 The Brief
IKB Travel are a leading UK travel agent, offering cheap flights to the Middle East. Operating since 1996, they had served more than 1,000,000 flights to customers around the world.
They approached us with one simple goal; to sell flights.
Having already established themselves as a leading flights provider, their new website aimed to improve upon this success. This website had to be capable of managing multiple online flight bookings along with helping to maintain a travel service that many of their customers were accustomed to.
What we did
IKB are part of a larger brand, the Al-Burhan Group. One of their requirements was to make the site share a visual identity with their parent company to reinforce their branding.
To honour the connected nature of their agency network, our design was primarily influenced by the Al-Burhan Group website, sharing a palette of navy blues and hue-shifted greys. Typography also remained unchanged too. Text is one of the first things a user visually connects with. Therefore, it was important to keep the sans-serif typography around to further reinforce this brand identity.
However, before we got carried away, we wanted to avoid this website becoming a lazy copy-paste project. We always like taking small creative liberties when it comes to our projects to help improve upon certain visual aspects, or interactive elements.
We expanded upon their colour palette to give us a wider range of tones and hues that we could apply to the design, that allowed us to help break up blocks of content in meaningful ways.
We improved upon UI elements like buttons and cards to help bring attention to what they were used for. Buttons were made larger to increase visual contrast, making you want to click them more. And cards were given global styles, helping group their associated content visually, and consistently.
The Result
The result was a website that looked right at home within the Al-Burhan Group branding. But also a website that could stand strong solo as an independent agency.
An overall visual improvement upon their last website, this new design featured improved elements across the board, combining to create a modern, cohesive user experience for future site visitors.
In addition to the improved visuals, we also included improved content management tools to allow IKB to promote the content they wanted in a helpful, easy-to-use package.
Following the launch of this website, seeing the increase in online bookings via their booking tool really speaks for itself. We're proud to have created and launched a website designed to do exactly what it was supposed to; sell flights.
Check out IKB Travel & Tours for yourself and let us know what you think.
Take a look at them now