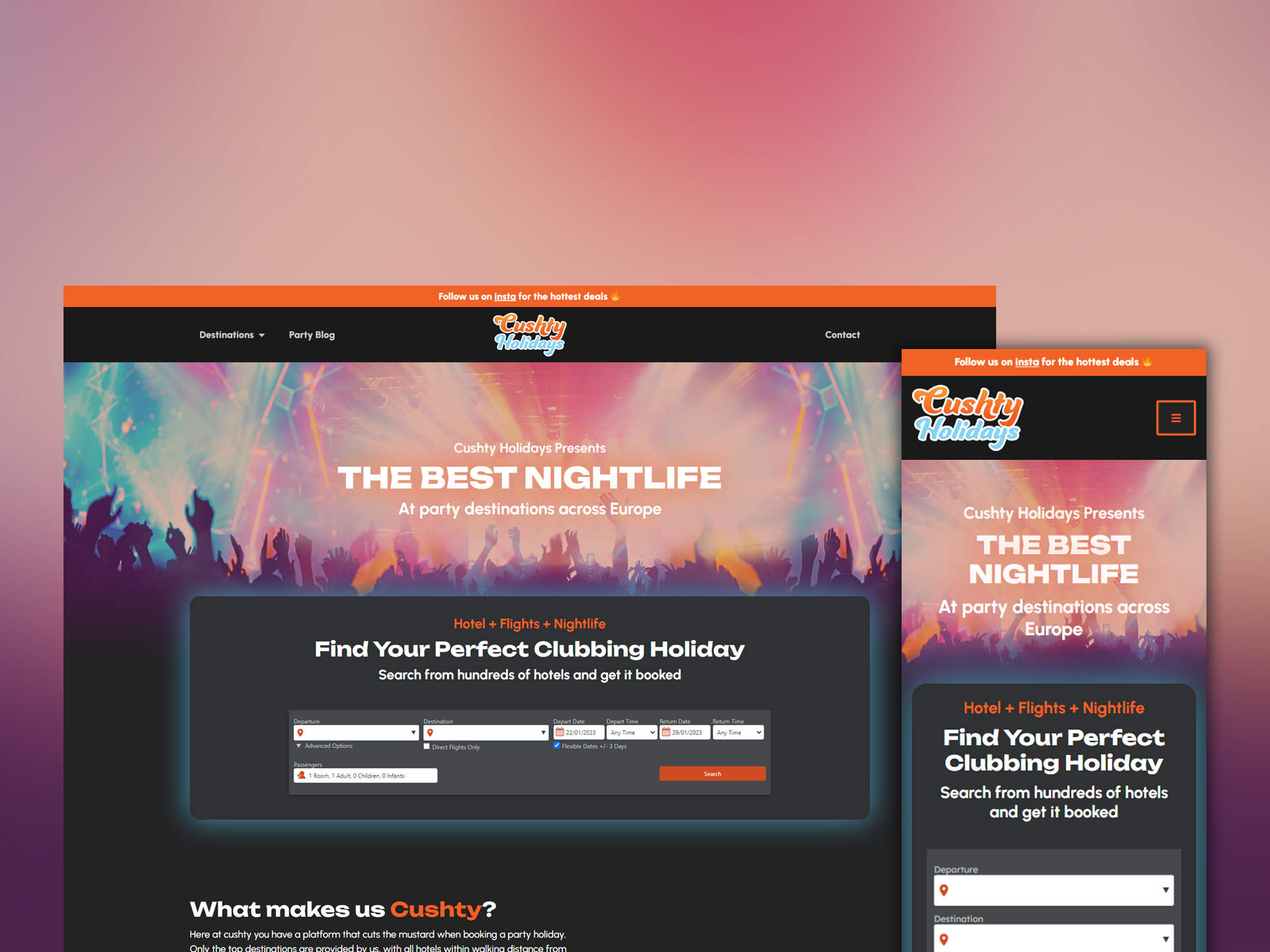 The Brief
The young and ambitious duo of Tom and Ryan came to us looking to help launch their exciting new travel venture; Cushty Holidays. A brand focussing on offering the best nightlife in party destinations across Europe.
They were looking for a bespoke travel website to help them launch their business online with an integrated booking facility allowing customers to book Jet2 packages to all the most popular party destinations in Europe.
Pretty standard stuff. However, there was one idea that excited us most. They wanted a dark themed design to resemble the nightlife their brand was inspired by.
With that in mind, we knew this was going to be a fun project.
The Solution
A dark themed design made us completely rethink the way we approach typical design projects.
Starting at the colour palette, we wanted to ensure each of their primary brand colours would retain their punch when used against dark backgrounds. Additionally, we wanted to find the perfect balance between text and background. There's nothing worse than reading pure white text on black.
We aimed to create an even balance between text, buttons, and their backgrounds to provide an easy reading experience for content and design graphical elements that retained their 'pop' from the page but didn't appear painfully oversaturated.
Now it was time to introduce that party vibe.
We opted for an edgy, chunky typeface, fitted with a colourful glow, to really lean into that neon lights aesthetic of holiday night life. Container elements were also wrapped in a blue neon glow to bring attention to content that mattered most.
But the fun doesn't stop there.
Hover effects are always a great way to express creativity in web design. It's one of the primary interactions your users have when navigating a website. So why not have fun with it.
Content cards would come to life with a shift in colour and emanating a warm orange glow from beneath, really lifting them from the page. Why wouldn't you want to click them.
The Result
Our first web design project of 2023 resulted in something we were more than proud of. Even we were amazed at how well this design came to life.
You could really feel the nightlife vibe the minute you loaded up the homepage. Elements would pop off the page against the dark background. Content felt warm and inviting, leading you to want to explore more of the site. We felt this met the brief perfectly.
Ryan and Tom were so pleased with how this project turned out. It met their vision to a T. We're so excited to see what Cushty Holidays becomes in the future.
Check out Cushty Holidays for yourself and let us know what you think.
Take a look at them now